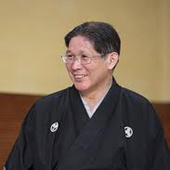 Noboru Yasuda
Shimogakari-houshou-ryu Noh Artist
Yasuda was born in 1956 in Choshi, Chiba Prefecture. During high school he developed an interest for Oracle Bone script and ancient Chinese philosophy through Mah-jongg and poker. Alongside his Noh Waki Artist Career, Yasuda organizes Terakoyas (learning sessions open to the public) called "Yuugakujyuku", in Hiroo, Tokyo and nationwide, where they study "Analects of Confucius" among other topics. Also a prolific writer, his books include; [Awai no chikara, kokorono jidai no tsugi wo ikiru] (The power of 'awai', living in the era after the 'era of the mind'), [Coffee to Issatsu series : Inana's Descent to the Netherworld], both published by Mishimasha, [Noh 650nen ijyo tuzuita shikake toha] (The truth behind Noh's survival of 650 years), published by Shinchoshinsho, [Awai no jidai no Rongo: Human 2.0] (Analects of Confucius read in the era of the Awai: Human 2.0), published by Shunshusha, and many more. https://twitter.com/eutonie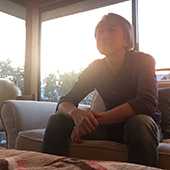 Yoshio Oshima
Psychiatrist
A graduate of National Niigata University School of Medicine, Oshima took a position at the Department of plastic and reconstructive surgery at the University of Tokyo and related hospitals. Followed by positions at Tokyo Metropolitan Matsuzawa Hospital, National Cancer Center Hospital and Gan Ken Ariake Hospital as a psychiatrist. Alongside his work providing emotional support to cancer patients and their families at cancer institutions, he starts his own pshychosomatic practice, Umimachi Clinic, in Inamuragasaki, Kamakura where he also provides psychological counseling. Oshima sees in the myth "Inana's Descent to the Nether World" the changes, transformations, deaths and rebirths that those touched by cancer also experience. Being involved with the production from the start, his role in the latest version was Neti.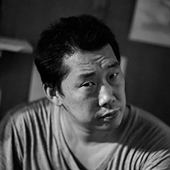 Shohei Yamashita
Contemporary Artist
Born in Miyazaki, Yamashita completed his master's course in western style painting at the School of Art and Design of Tsukuba University. He works as a sculptor, illustrator, stage designer among other fields. His style of work is widely acclaimed and considered a unique driving force in the present precarious art scene faltering between commercial and modern art. His involvement with "Inana's Descent to the Nether World" has been as a puppet artist, stage producer and lighting designer.
http://shohey-yamashita.com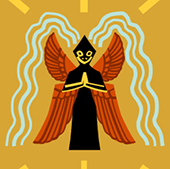 Gaku Nakagawa
A Buddhist monk of the Jodo Shu Seizan Zenrin-ji school and Illustrator
In 2005, Nakagawa was chosen and featured as one of the exciting new and upcoming illustrators in the world by 'ILLUSTRATION NOW!', a book published by the German art book publisher TASCHEN. His work has reached far and wide from Kyoto, including illustrations in the pages and covers of the U.K. magazine 'monocle' since 2007. Nakagawa is a member of 'Shichinin no Fude Samurai', a illustrator group mainly working in the Kansai region. He has provided illustrations for 'Inana's Descent to the Nether World'.
http://www.kobouzu.net
Satoru Wono
Professor at the faculty of art and design, Tama Art University
Wono received the 'New Composer award' by the Japan Society for Contemporary Music in 1987. He has produced, composed, edited and remixed for artists such as Noriko Ogawa, Takashi Hamazaki and Seigen Ono. In 1995, Wono joined the musical group 'Maywa Denki' as their music director, under the name 'Keiri no Wono-san'. He has been a member of the lounge music band 'Black Velvets' since 2003. Wono has released an electronic music piece from the French experimental music label, SONORE, and DJ and dance tracks under the alias PLEASURE CHANNEL since 2009. He joined the electro unit 'XILICON' in 2012. Recently he has been involved with theatre arts with companies such as 'Co. YAMADAUN'.
 https://www.wonosatoru.com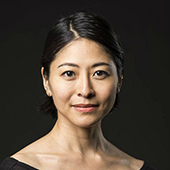 Nadiah Sorait
Dancer and Performing artist/ Creative Translator and Writer
Nadiah's passion for movement, verse, art and travel has lead to collaborations with musicians, dancers, theatre performers and artists of various genres and nations, on street corners to theatre halls. She has trained in Sacred Earth Bellydance, Middle Eastern fusion styles, classical ballet and contemporary dance, extending her studies to ancient Japanese theatre art. Born and raised in London, U.K., Nadiah believes that dance is an innate knowledge of the human body and mind, a nourishing guide that helps us accept, understand and love. Nadiah's involvement with the production is as a dancer and translator. http://nadiah.co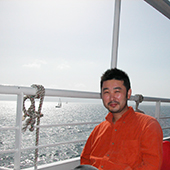 Keisuke Takai
関東学院大学国際文化学部比較文化学科・准教授。
キリスト教・宗教学を担当し、学部の宗教主事(チャプレン)を兼務。
イナンナの冥界下りの翻訳・監修。